Submission Deadline: April 3, 2020
Closing Time: 6:00 pm Mountain Standard Time
Festival: August 26th to August 29th
Mural Painting: August 2020
The Beltline Urban Murals Project (BUMP) is an award-winning community-driven project to showcase art, promote tourism, improve the public realm, and build community spirit in Calgary, Alberta, Canada. Now entering its fourth year, BUMP has curated a diverse portfolio of local, national, and international artists who have created eye-catching, inspiring, and beautiful murals in Calgary. The project continues to expand with the 2020 BUMP Festival celebrating art, music, and community this August.
We believe that public art can enrich communities, create beautiful and captivating places, challenge our ideas, provoke discussion, and add beauty to the everyday.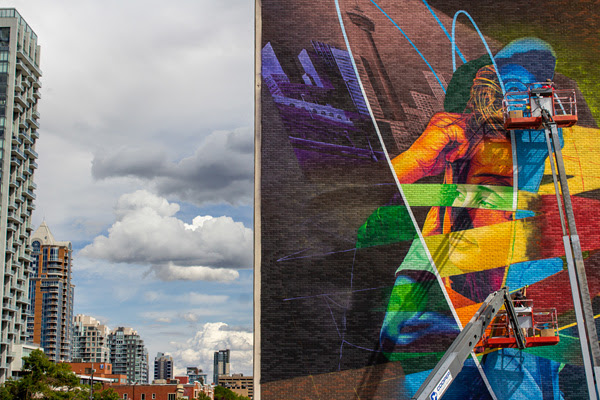 Since its inception in 2017, BUMP has enriched the character of Calgary:
Commissioned 31 murals celebrating a diversity of local, national and international artists.
Awarded the 2019 Mayor's Urban Design Award for Community Initiative.
Gathered thousands of attendees at the 2018 and 2019 BUMP Festivals.
Led guided mural tours for hundreds of Calgarians and visitors to the city.
Showcased outdoor film and live music performances as part of a celebration of community and the visual arts.
BUMP is inviting muralists from all countries to submit their qualifications for consideration for the project. Murals will be installed in the month of August.
RFQ details can be found at www.yycbump.ca/create
Details on past years' murals can be found at yycbump.ca
The Request for Qualifications runs from March 1st to April 3rd at 6:00pm MST.
Contact info:
Beltline Neighbourhoods Association
Junette Huynh | Dexter Bruneau
art@beltlineyyc.ca | info@beltlineyyc.ca
PO Box 82043, Connaught PO, Calgary AB T2R 0X1